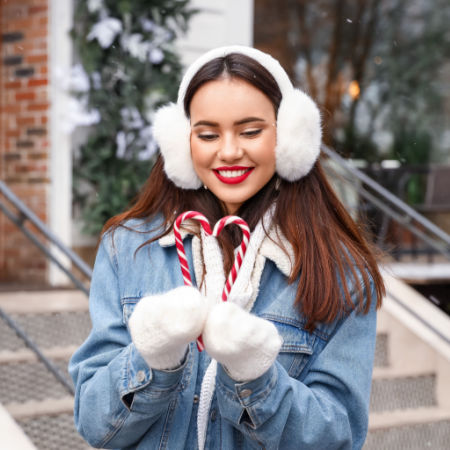 SINGLE FOR THE HOLIDAYS? CELEBRATE IT!
Three ways to put the "jingle" in singlehood this holiday season
If I had a nickel for every time a Vibe reader lamented how much they dread being single for the holiday season, I'd have a lot of nickels.

I don't mean that disparagingly. I get it ... I really do. There's something about the holidays – and winter in general – that makes people want to pair up and hunker down as a duo. (They don't call it "cuffing season" for nothing!)

But as a single person myself, I love that I'm free to get my festive flirt on with whomever I want. Do I sometimes think it'd be nice to hit up holiday parties with someone special? Sure. But it's also super fun to search for my plus-one(s) during my favorite season of the year. New year, new people, new adventures ... it's an awesome combo. Plus, it's kind of fun to imagine having a meet cute in the midst of a holiday-light-strewn setting. (What can I say? I love me a Hallmark-movie moment.)

But if you're still not convinced that being single during the holiday season can be awesome, here are three tips for how you can embrace the experience and make it magical.

Remember: being single over the holidays doesn't mean being solo!
This holiday season, embrace a new mantra: the more dates the merrier! Just because we're single doesn't mean we need to face the holidays alone. Let's get out there and date, baby!

I have three strategies to meet as many people as possible this holiday season. The first one (obviously) is to hit up Couple speed-dating parties. I love that I can mingle with my personal matches over online speed dates to see if any of them are worth meeting under the real-life mistletoe. Check out the lineup of Thursday events here, and who knows? Maybe we'll date this December.

Second, I'm giving my dating apps the once-over to make sure my profiles accurately reflect my awesomeness and my ideal partners. I totally believe that this is a HUGE part of getting the most out of online dating. Yes, I'm open to meeting new people and having new experiences, but I only want to do so with my best possible matches. (For tips on how to do the same, check out this this article and this one.)

And third, I'll be out and about, hitting up holiday mixers, local community events, wine tastings, game nights at local bars ... whatever looks fun, festive, and will introduce me to other singles looking to celebrate the heck out of the season. I spent a lot of the pandemic stuck inside. This year, socializing as a single person is a gift, and I'm ready to tear it open.

Make dating during the holidays more magical
My next strategy for being single during the holiday season? I make sure that when I meet my matches on real-life dates, the experience is magical. And that's reeeeeally easy to do this time of year.

Even if the holidays aren't your thing, you have to admit that dating during this season can be kinda cool – there are so many unique activities to embrace, and even those that are standard still seem special. Whatever you do (or don't) celebrate, it's hard not to feel a heightened sense of romance and possibility when you're surrounded by twinkling lights and the promise of a new year.

I can think of countless dates that are made more magical this time of year: ice skating, skiing, sledding, town tours (so many downtown areas have amazing holiday decorations), local tree- or menorah-lighting ceremonies, cooking or holiday-craft classes, cocoa sessions around a fire pit ... the list could go on and on. (Check out this post for some more date ideas.)

When you combine the excitement of meeting someone new with a really magical first date, suddenly being single this season doesn't sound so bad.

Give yourself the gift of "friend dates" during the holidays
Finally, don't forget the gift of friends. If you don't feel up to dating this holiday season, or if you're striking out while playing the field, find comfort in your crew.

One thing we believe at Couple is that platonic connection is as meaningful as romantic relationships. It's why our speed-dating parties don't solely focus on dating, but also allow you to hang and play games with the crowd in Couple mingle rooms. (I especially love when someone busts out their guitar and gives us an impromptu concert, but crushing skulls at trivia is pretty satisfying too.)

Bottom line, whether you connect online or meet with pals at a pub, it makes no difference. Just take the time to gather with a group and surround yourself with people who appreciate you as you ... not as one-half of a couple, but as a spectacular single person who is living their best life. Because that's what it all comes down to, right? You're awesome and deserve to celebrate every season, not just the holidays.

Cheers to us, single friends.