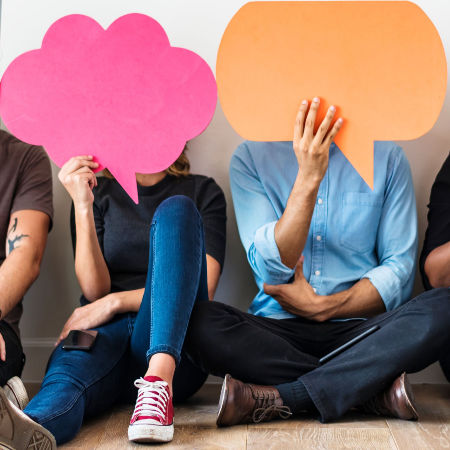 TIPS FOR STELLAR SPEED DATES, II
Break the ice with these killer conversation starters
We get a lot of questions here at Couple about the best way to break the ice during an online speed date. The short answer is that there's no magic formula. A topic that might send one date into hyperdrive could send another crashing to the ground.

But that didn't stop us from polling Couple users about their go-to conversation starters. We wanted to know which strategies have worked best on the platform, and man did the community deliver! Below is a roundup of our favorite icebreakers. Check them out, put them to use, and let us know how it goes!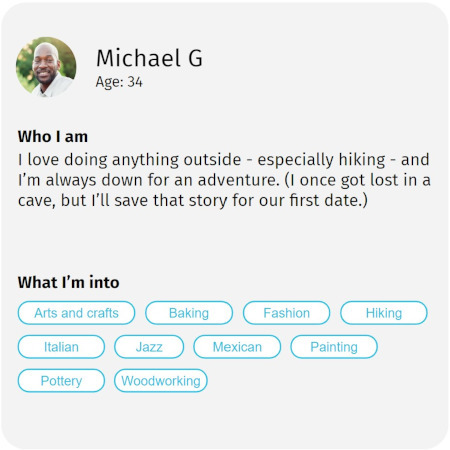 Take advantage of your date's profile preview
"Since I only have three minutes to get to know my match, I try to sneak a peek at their profile before the date begins. It's super helpful to have a sense of the basics – what kind of relationship they're looking for, what they do for work, what they're into, etc. This helps in two ways: I don't waste time asking questions I can answer myself, and yet I can ask super-specific questions based on what I've read. If I see you're into hiking, I might ask about your favorite trails or what your longest trek was. People love to talk about their hobbies, so it's a great way to break the ice."

Jessica, 23
Ask about their heroes
"My go-to question is, 'who's your hero?' I find it's a great way to ease into a date. First dates can sometimes feel like an awkward interview, but if I ask my partners to talk about someone other than themselves, it helps them break out of their shell. And, selfishly, finding out who someone admires can tell me a lot about their personality and values. Our profiles might be a perfect match on paper, but if I learn my date is a big fan of someone I completely disrespect, chances are we're not going to be compatible in some important ways."

Damien, 26

Use visual cues
"The best dates were the ones where we used items in the background as icebreakers. Once I happened to have a Dwight Schrute poster hanging behind me and a Mario t-shirt on, which got us talking about those characters. When other people had things in the background I could comment on, it really sparked conversation."

Anonymous, 31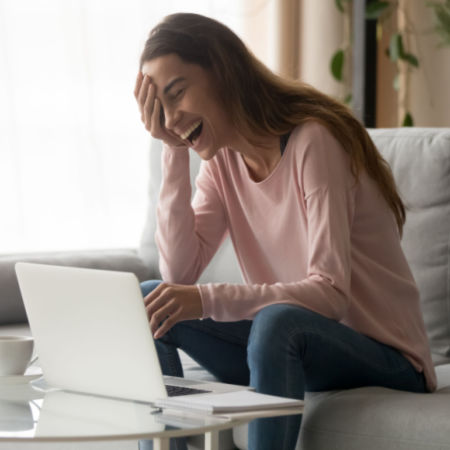 Practice your pitch
"This isn't really an icebreaker, but I still think it's a good way to ease into dates. I tend to get so nervous before meeting someone that I get tongue-tied over even the simplest of questions. (What do I do for work? Couldn't tell ya.) After a couple of speed-dating events, I've perfected a 20-second 'about me' spiel. Being able to articulate a little bit about myself helps me stay present, which means I can actually listen to my date and ask them questions about themselves."

Anonymous, 32

Have "emergency" questions prepped
"Having a few standard questions you can rely on if the conversation falls flat is sooo important to keep things flowing. They don't have to be anything special (I have three generic 'would you rather' questions I use), but def have something in your back pocket to maintain momentum and avoid awkward silences. You could even write them down beforehand. Having a date-night cheat sheet is a perk of being on a virtual date!"

Neely, 30

Do you have any suggestions that aren't mentioned here? Send 'em over! We'll feature the best recs the next time we talk icebreakers.