SEVEN FIRST DATES THAT DON'T SUCK
Make the most of meeting your match in person
So you're vibing with an online match and you both agree it's time to see if your on-screen sparks sizzle in real life. Score! You passed the chat test and you're going to meet in person. But now the pressure is on: you've graduated to a first date. And as any veteran dater can tell you, all first dates are not created equal. Those early embers will be extinguished easily if your real-life meetup doesn't add fuel to the fire.

So what can you do to set yourself up for success? So glad you asked.

In my humble opinion, the best first dates are those that force you to focus on things beyond your partner.

It might sound counterintuitive, but dates that prioritize conversation (like dinner dates) can sometimes doom a relationship prematurely. For me, the stress of continuous small talk is a real romance roadblock. My brain inevitably shuts down halfway through, and the dead air often leads to dead ends.

Activity-based dates, on the other hand, allow me to divide my attention between what I'm doing and who I'm with. The built-in structure of an activity takes the pressure off of me to keep the momentum going, and having a shared task/goal gives me a go-to conversation topic should I feel tongue-tied by jitters.

Luckily, there are tons of activities that lend themselves to great first dates, and the Vibe team picked our favorite seven for you to consider when meeting your matches. We even provided links to national chains or databases where relevant, but the rest is up to you. Take a look and get planning!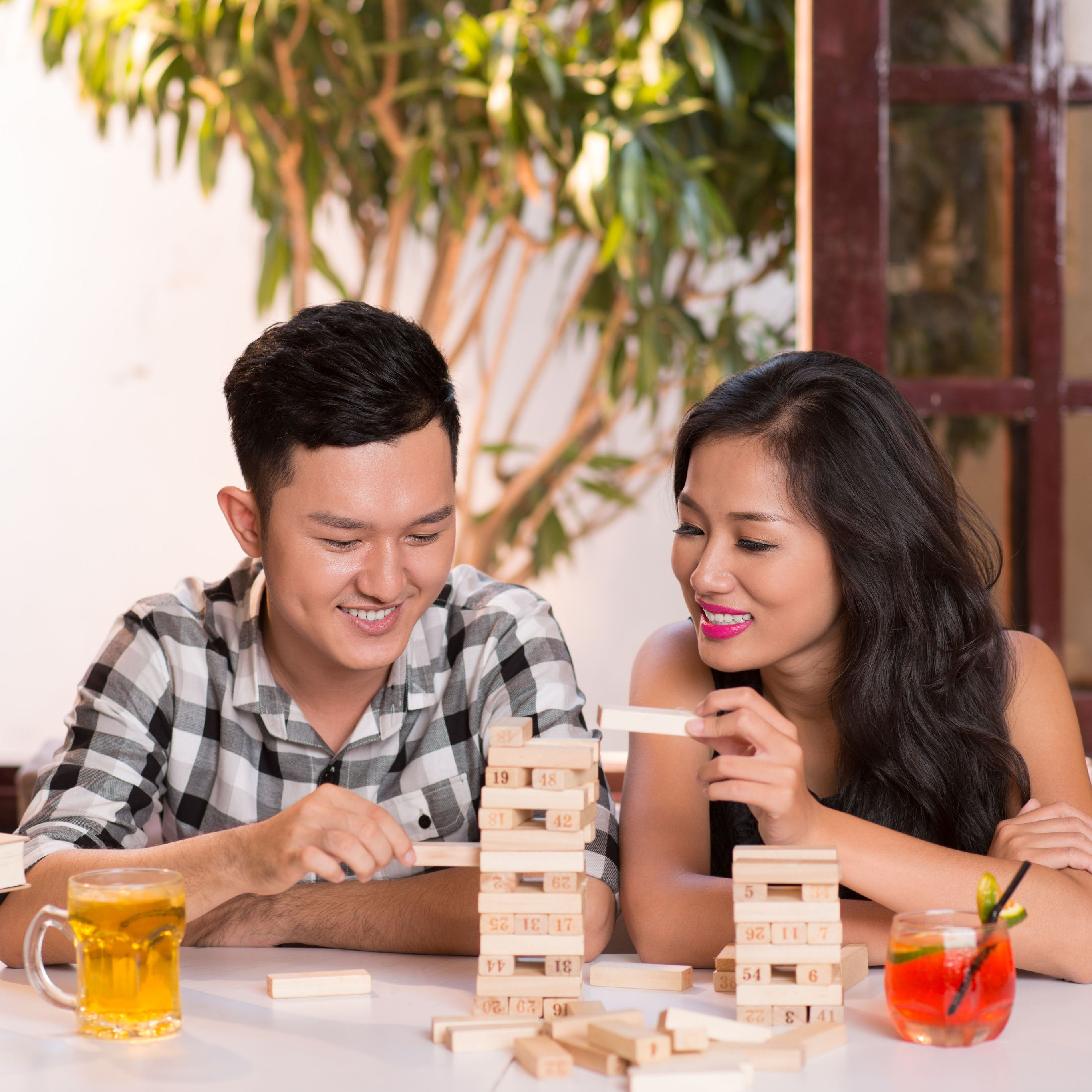 Date idea #1: Make it a game
I dig a first date that centers around a game of some kind. What's not to love? Games are fun, they inspire some flirty competition, and they let you see how your date behaves when they win and lose.

The arcade is an old-school but awesome option, even for those of us who aren't usually gamers. (Skee-Ball, anyone?) On top of that, arcades are crazy noisy, making them a great entry-level date for people seeking limited chit-chat.

Beyond the arcade, you can hit up a pub for a game of pool or a trivia or board-game night. Trivia nights in particular offer a great way to get to know where your date's interests (and smarts!) lie, which is a pretty slick way of sizing them up on the sly.

Find your fun here: Barcade, Dave & Busters, trivia nights
Date idea #2: Get sporty
If you and your match are the get-up-and-move types, you have a lot of first-date options to choose from: batting cages, trampoline parks, axe-throwing venues, mini-golf centers, or bowling alleys (to name a few). Many of these activities are now available at complexes with built-in bars and restaurants, making it easy to grab a bite or bev after you've worked up a sweat and built up your comfort level.

Just remember to keep your cool and not get overly competitive. Sore losers are SO not hot.

Find your fun here: Batting cages, SkyZone, Bad Axe Throwing, Putt-Putt Fun Centers, Lucky Strike

Date idea #3: Channel your creativity
Of course, sporty outings aren't for everyone. If you're more artistically inclined than athletic, go for a date that lets you create! Nearly every small town offers paint-and-sip nights, but there are also pottery, cooking, or crafting classes that you can attend as a duo.

Making something with your match is a fun bonding experience, and if the date goes well, you have some made-by-hand souvenirs to swap at the end of the night. Awww.

Find your fun here: Pinot's Palette, Color Me Mine, Sur la table, Board & Brush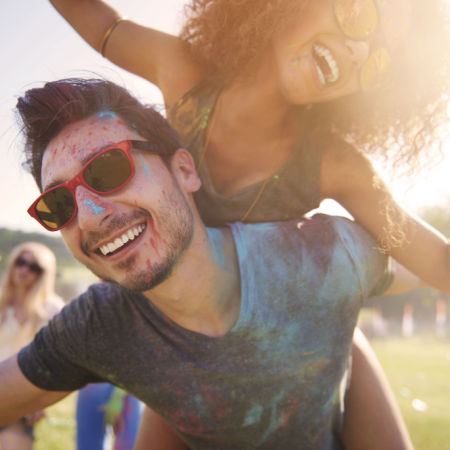 Date idea #4: Have your first "fight"
If love is a battlefield, why not spend your first date duking it out at a laser tag or paintball place? Better yet, team up against other patrons so that you can spend your time together versus at odds.

Some venues have adults-only events, which is they way to go if you want a more "mature" vibe. (Don't worry ... you'll still laugh a ton.)

One hot tip: make sure your date is totally on board before going the paintball route. Nine times out of ten laser tag is a the better bet for a first meet-up (not everyone is keen on becoming a human canvas), but who knows? Maybe you're both down for a messy adventure.

Find your fun here: Laser tag, paintball

Date idea #5: Celebrate the season
We're headed into autumn here in the western hemisphere, and that means one thing: Fall Fun Days™ have returned! Grab your best flannel and take your partner apple-picking, pumpkin-picking, hayriding, haunted-house hopping, or Oktoberfesting.

Some of the activities mentioned here are of course dependent on where you live, but even if you can't actually pick apples where you're at, there's bound to be some other seasonal fun happening at a farmer's market or local venue.

One caveat: many of these seasonal activities are big draws for families, so if you don't feel like having your first date in the midst of lots of Halloween-happy kids, best to find a different option.

Find your fun here: Oktoberfests

Date idea #6: Lace up for love
Any fan of rom coms knows that hitting the rink is a precursor to romance, so follow their lead and have your first date on skates! Traditionalists will love an old-fashioned ice-skating date, especially if you can find yourself an outdoor rink. (Bonus points if it's snowing.) There's something very nostalgic about the experience of holding hands on the ice, even if you never skated as a kid.

And who can deny the appeal of a retro roller rink? They can be harder to find these days, but they do still exist, and it's totally worth the trip even if it's a bit of a trek.

Find your fun here: Roller rinks, ice rinks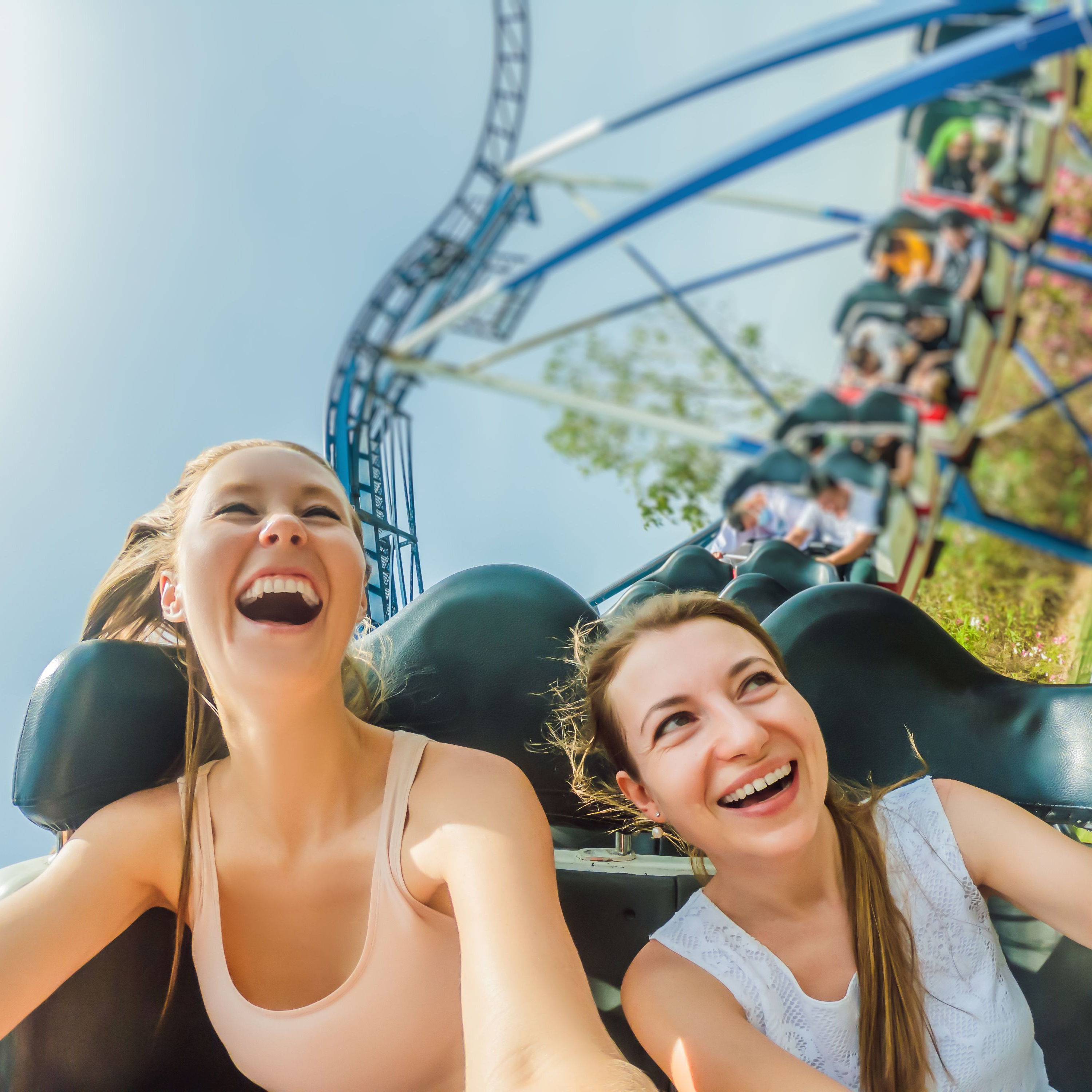 Date idea #7: Chase a thrill
If you wanna do life (and love) in the fast lane, chase an adrenaline high by making your first date daring.

Whether you're seeking a slight rush or you're determined to have a death-defying experience together, there are plenty of heart-pumping activities to choose from: amusement parks, go-karts, skiing, indoor or outdoor skydiving, bungee-jumping, etc.

Something tells me that more daters will be fans of rollercoasters than of wingsuits, but hey, you do you.

Find your fun here: Amusement parks, K1 Speed, ski slopes, iFly, skydiving schools


What do you think? Any other fun first date options to add to the list? Let me know here!