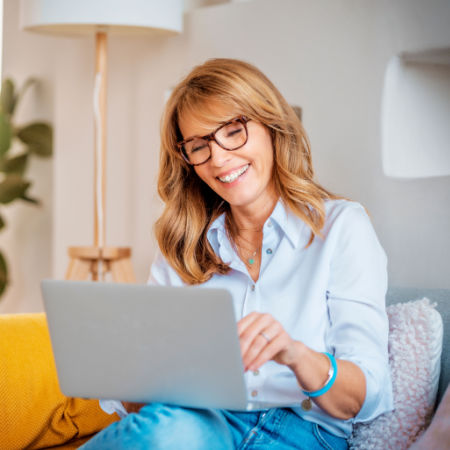 ASK COUPLE: IS ONLINE SPEED DATING JUST FOR YOUNG PEOPLE?
Couple's experts give the scoop on why speed dating is for ALL singles
Every few months, The Vibe invites the Couple community to seek our counsel on the dating issues currently plaguing them. This month's featured question is one specific to Couple online speed dating versus dating in general, but it's a goodie. Check it out … and then check out our next event. As we make clear below, Couple is open to everyone!

Q: Hey, Couple. I'm a 44-year-old woman just re-entering the dating scene after a divorce (I was married for 20 years), and I want you to be honest: is online speed dating just for young people in their twenties? I'm looking to meet more Gen Xers than Gen Zers, I'm not a big fan of dating apps (I'm not tech-savvy, and I'm afraid of catfishers), and I don't want to show up at a Couple event and feel stupid and old. Is Couple really worth it for people like me? - Old Lady Looking for Love, 44
Penelope's take: online speed dating is for EVERYONE!
"Old" Lady Looking for Love, I'm so glad you asked this question because it gives me a chance to set the record straight. Is Couple just for young people? Or only straight people? Or only cis people? Hell no!

Couple is for everyone.

Your generation, race, ethnicity, gender, sexual preference(s), etc. are irrelevant. As long as you're of age and single, the Couple community is your community. And, yes, m'Lady, we're talking to "older" adults like yourself, too.

While Gen Z and young Millennials make up the majority of those mingling and matching on the platform right now, there is definitely representation from Gen Xers and even Boomers. Plus, we fully expect their numbers to grow as time goes on and our events get larger. Couple's goal has always been to support a huge and diverse community where literally anyone can log on and find love, and that mission ain't changing any time soon.

I totally understand that you're uncomfortable dating people much younger than you, and Couple wants all of its users to feel confident that our matching engine will prioritize pairing you with the people who meet your specified criteria. Could you occasionally find yourself on a date with someone who falls outside your preferences? Possibly, especially during smaller events. But conversing and connecting for three minutes – even if not romantically – can still be fun, and it's great practice if your dating game is a bit rusty. Worth a shot at the very least, right?

Bottom line, the Couple community is cool and kind and inclusive, and we'd be lucky to have you join it. We hope to see you at an event soon!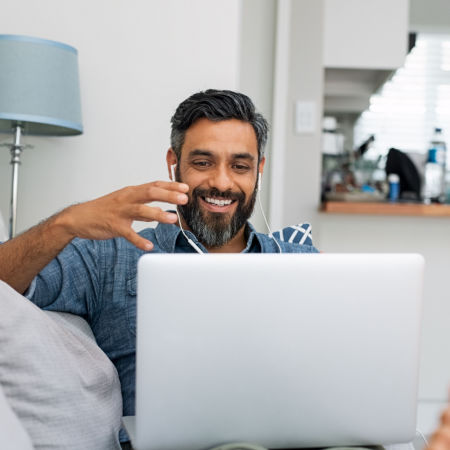 Andy's take: online speed-dating is a great way to re-enter the dating scene
Hi, Lady! First of all, I'm sorry to hear about your recent divorce, but the good news is that you're in the perfect place to explore your newfound singlehood. The Couple experience offers a fun, low-stakes, sincere, and safe way of re-entering the dating scene.

Second, rest assured that the Couple experience is far different from those offered by traditional dating apps. For the record, I totally get why you're not into them. They're a real time-suck, and it's pretty tough to know whether the person you're swiping is being honest about who they are and what they're looking for. And it all feels a bit transactional versus personal, right?

Dating on Couple is different for many reasons, three of which I'll highlight here:

1) The experience is live and event-based, making it super social, interactive, and fun … three qualities you def want when you're dating for the first time after a relationship ends. You'll hang with the hosts, play games with the crowd, and (of course) have your one-on-one dates. The overall feeling is casual and party-like. Take it from a sometimes-awkward guy: it's hard to feel nervous or like an outsider at a Couple event. On top of that, being events-based means Couple is FAR less time-consuming than other apps. The platform only occupies one hour of your life per week. That's one hour of actual dating – not swiping – per week. Hard to beat that.

2) Online speed dating is super safe, making it a great entree to online dating (or alternative to standard dating apps). You mentioned catfishing? Well, Couple makes it much more difficult for people to fake their identity because your initial interactions happen over video dates – phony profiles and pics won't get you very far here. Additionally, dating on Couple happens from the comfort and safety of your own couch, which means you're never physically committed to any part of the experience. You can safely bail at any time, and nobody can follow you home.

3) Video speed dating also offers great practice for those just getting back into the dating game. Quick three-minute dates are a low-pressure and efficient way to get used to making small talk and flirting again. And the bonus is that you might actually meet someone you're attracted to during these practice sessions!

I could go on and on, but my main point here is that I highly recommend that you give Couple online speed dating a shot. Oh yeah, and if you need a little confidence boost before you attend your first event, check out some of our "how to" articles to make the most out of your experience: Tips for Stellar Speed Dates I, Tips for Stellar Speed Dates II, Tips for Stellar Speed Dates III

M.J.'s take: Online speed dating is EASY … even for the tech-challenged among us
Another great thing about Couple online speed dating is that it's beyond easy to use. I know you said you're tech-challenged, but fear not: you don't have to learn the ins and outs of a complicated app to use our platform. If you can log in to a website, you can successfully date on Couple. Pinky swear.

Couple.com takes you through your account setup step-by-step: it will guide you through the VERY fast process of creating an account and profile, and on the night of your event, all you have to do is log in using the link we send directly to you … Couple's live hosts and matching engine will do the rest. (Most events feature two emcees who lead the festivities and make sure you know where to go and what to do. They – along with live tech support that's only a phone call away – can help you sort through any issues in real time.)

We're also happy to chat with you before the event to make sure you're up to speed(dating). Shoot us any questions here, and we'll have you ready for your next event before you can say "Couple."

Go get 'em, Lady!


Have a question for Couple's dating experts? Send it to us and perhaps we'll feature it in an upcoming article!