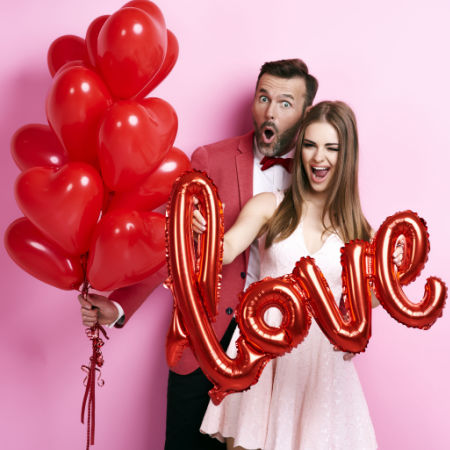 EVENT PREVIEW: THE COUPLE CUPID EVENT (FEB 9 @ 7PM ET)
Single? Meet your valentine at Couple's (love)sick online speed-dating party!
BIG NEWS, FELLOW SINGLES: Couple is hosting a pre-Valentine's Day online speed-dating party that is bound to be a banger!

The inaugural Couple Cupid Event kicks off Thursday, February 9th, at 7pm ET ... just in time for you to meet a potential IRL valentine. The party promises everything you dig about Couple's online events, with a little extra love thrown in for festive flavor.

Yep, you'll meet your personal matches on private dates, hang with our awesome hosts, listen to live performers, learn how to make a sweet cocktail, win prizes from Cupid himself, AND experience the launch of Couple virtual gifting! To quote one of our fave conversation hearts, this party is going to be TOO SWEET. So if you're single and in the mood for a little romance, check out the details below and then get yourself signed up!

Meet your personal matches over online speed dates (duh)
Let's get to the heart of the matter: just as with all Couple online speed-dating parties, the Couple Cupid Event promises lots of live dates. In fact, our matching engine will set up attendees on approximately 12 rounds of three-minute speed dates with their personal matches. Ooh la la.

The Vibe archives contain lots of tips for how to make the most of your pre-Valentine's Day soiree (see here, here, and here to start), but the first arrow in your quiver should always be a sincere, thorough profile. Make sure it's up to date to get good dates.
Party with singles as you enjoy live performances or cook up a cocktail
All Couple speed-dating events boast great hosts, fun games, and cool hangs in our mingle rooms. Finding a partner should feel like a party, and our Valentine's Day event definitely checks that box.

But in an exciting first, the Couple Cupid Event also will feature live entertainment before, during and after the dating. You can catch a set from comedian Marc Gerber, listen to singer-songwriter Taylor Abrahamse, or learn how to craft a cocktail with mixologist Gil Spaier from All Points West Distillery.

We'll be profiling these talented gents in more detail next week, so head back to The Vibe to meet them on the page before you meet them at the party.

Win Couple Coins from Cupid himself to upgrade your speed dates
Valentine's Day has us feeling so lovey-dovey that we cloned Cupid and equipped his stand-ins (heartthrobs Jake Ondrus and Pedrooo) with a boatload of Couple Coins to award during the speed-dating party.

Couple Coins are the platform's in-app currency, which can purchase experience upgrades (like requesting a date with a specific user or buying an icebreaker if you're lost for words), event entries (once events are no longer free), or virtual gifts for your dates. Speaking of which ...

Be the first to send your Couple online date a virtual gift
The Couple Cupid Event will mark the launch of a brand-new feature on the Couple speed-dating platform: virtual gifting.

Ever have a Couple date SO amazing that you felt like Coupling them simply wasn't enough? That they needed to know -- right then and there -- that you're into them?

Beginning February 9th, you'll be able to do just that. After every speed date, each user will have the opportunity to purchase one of five (adorable) gifts for their partner. The recipient will receive their virtual present right before they make their Couple Call (the point at which a user decides whether to Couple, Connect, or Cut their date), timing that is both sweet and strategic. Who knows? Perhaps this act of kindness might be the clincher in getting a mutual match!

We're super excited about this fun feature, and we hope you dig it as much as we do. Only one way to find out, eh? Come celebrate Valentine's Day Couple-style by registering now to party with all of your plus-ones!