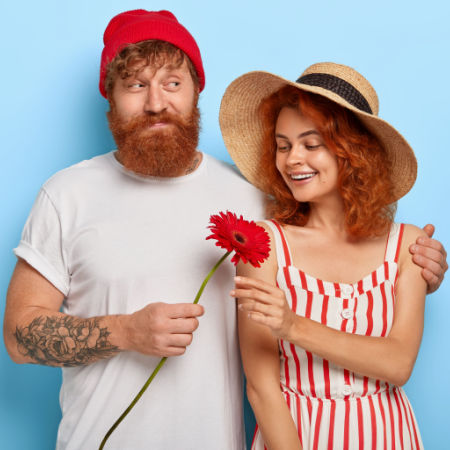 ASK COUPLE: SHOULD I CELEBRATE VALENTINE'S DAY WITH SOMEONE I'VE JUST STARTED DATING?
Is it cool to play Cupid with a new love interest? Our experts weigh in
It's time for February's installment of Ask Couple, a special column that features dating questions from real singles in the Couple community. This month's featured inquiry was fast-tracked to the top of the list given it's all about Valentine's Day. Specifically, we talked to a Coupler who was curious about how to navigate the holiday with a brand-new love interest.

Considering many of our readers attended the Couple Cupid Event last night and thus will be connecting with their new matches this week, we figured the timing couldn't be more perfect. Check out the question and see if you agree with our suggestions!

Q: Hey, Vibers. Random question, but what's your take on celebrating Valentine's Day with someone you've just started dating? I matched with a woman on Couple and we've gone out twice so far. All in all it's been going really well. I'd like to make some kind of Valentine's Day gesture, but I'm stressing about the implications. Everything is so new, and since we're not "official" yet, I'm confused about what's appropriate. Part of me feels like a Valentine's date would be too much too soon, but I'd also feel weird ignoring the day altogether. I think we both sense that there's potential for something real here, so I don't want to screw it up by making the wrong call. Any words of wisdom? - Confused Cupid, 29

Penelope's advice: Find out how your match feels about Valentine's Day
Hey, Cupid! Thanks for the great question, to which I have a very straightforward answer: simply ask your match how she feels about Valentine's Day.

I get that Valentine's Day can be an awkward subject to broach when you've literally just started dating, but checking in with your new lady is a fair first step … if done delicately. You don't have to come out and ask her how she would feel about spending Valentine's Day with you specifically; in fact, that might put undue pressure on her to rule on the status of your relationship prematurely. But you could ask about it generally. A casual "what are your thoughts on Valentine's Day?" is all it takes. Sure, your underlying intention might be transparent, but it still allows each of you to discuss the topic in a detached manner. Her response will provide a great barometer for how she feels about the holiday (if not more), and you can decide your next move from there.

For example, if she says she says Valentine's Day is a nonsense holiday designed to sell couples lots of unnecessary crap – or if it seems like she's hedging or trying to change the subject quickly – then take that as your cue to put your arrows back in your quiver. If she indicates she's a fan of the heart-filled holiday and seems eager to discuss it with you, then you have a great opening to make your next move.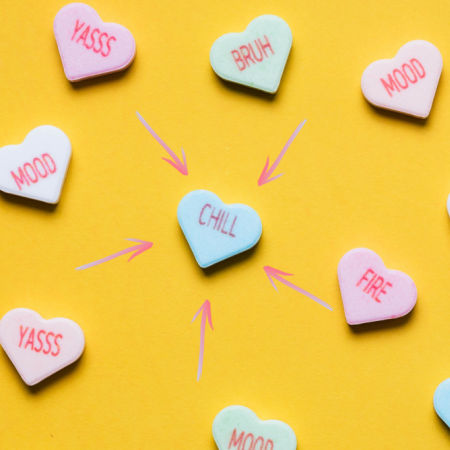 M.J.'s advice: Acknowledge Valentine's Day, but don't go "big"
I think Penelope's advice is spot-on. There's no reason to stress or guess about Valentine's Day when you can just ask your not-yet-significant other for their take on the holiday. However, if you can't bring yourself to ask her, if her answer doesn't provide enough clarity, or if you're simply looking to stay low-key, my recommendation is to acknowledge Valentine's Day subtly and in a manner that's proportional to the level of intimacy you've reached so far. (Which, possible physical stuff aside, probably isn't profound after two IRL dates.)

When I was in your situation a few years ago, I opted to text my crush a ridiculous Valentine's meme that made it clear I was thinking about him while simultaneously signaling that I knew grand overtures or a romantic Valentine's Day dinner might be a little premature. We had a hilarious back-and-forth about it, and I was glad I didn't push the natural pace of our relationship just because of a date on the calendar. (For what it's worth, he and I spent the next two Valentine's Days together, so the move definitely didn't scare him off.)

I think that last point is key: you don't want to rush things just because your third date happens to fall in mid-February. Use whatever context clues your fledgling relationship has provided thus far to gauge what kind of gesture (if any) is appropriate.

Good luck with your match, Cupid!

Andy's advice: Keep your Valentine's date casual
To build off of what Penelope and M.J. said, I would suggest that if you do decide to plan an official Valentine's Day celebration with your fresh-off-the-dating-app match, keep the encounter super casual. Like M.J. said, the vibe needs to be proportional to the intensity of your relationship, and an overly intimate candlelit dinner is likely too much after only two dates.

So what would be appropriate? Check out this article for some casual date ideas that are mainly activity-based. Most of these experiences would provide a great option for a low-key celebration with a new love. Also, keep in mind that this year Valentine's Day falls on a Tuesday, which for many of us is more "school night" than "date night." In other words, there may not be any expectation to hang on February 14th itself. And a date the weekend before or after Valentine's Day doesn't have to be heavy on the heart stuff; you can certainly nod at it, but it doesn't have to be overkill.

Whatever you end up doing, congrats on meeting someone great. It does the Couple staff proud when we hear real stories about people connecting over the platform. Wishing you and your lady many more dates!


Have a question for us? Send it here. And for all those singles out there, be sure to check out the next Couple event to meet YOUR future valentine!