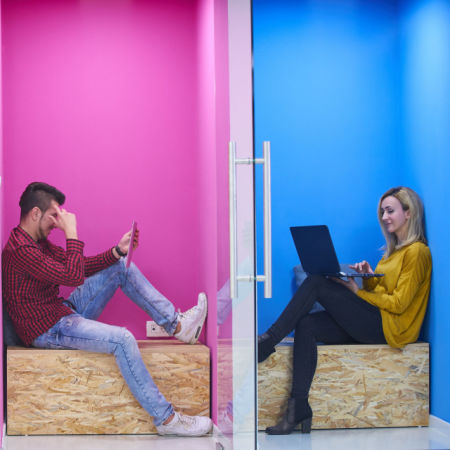 YES, ONLINE SPEED DATING IS STILL "A THING"
The (totally unbiased) case for dating on Couple
When I tell friends and acquaintances that I write for a speed-dating app, a common reaction I receive is: "Really? Is online speed dating even a thing anymore?"

It's a fair question. We're pretty removed from the days of mass Covid quarantine, and most of us can socialize in public with little worry. So why should singles bother with virtual dating when they can easily meet in person?

My Vibe colleagues and I could write a whole dang book touting the virtues of video dating – that's how much we dig it. But since we're aware that doing the dating is better than reading about it, we've narrowed it down to five main selling points.

Check them out below and then give online speed dating a try yourself. Couple has lots of upcoming events to choose from, and since they're free while we're in beta, you legit have nothing to lose. Also, don't forget to share your thoughts on the experience with the nosy editorial team. We love a good (or bad) dating story.
1. Online speed dating is hella fun
When we say "online speed dating," we aren't referring to dating events that happen over Zoom or Google Meet. To be blunt: those suck. Dress it up however you want, but your everyday video platform will forever be associated with "remote work" and "Covid cocktail hour," and nobody wants to channel office vibes or trigger pandemic PTSD during a date.

Done right, online speed dating should feel like a standalone, real-life event: social, fun, and exciting.

Couple has been tweaking their recipe for a while now, and I gotta say, the events are a damn good time. You feel like you're actually at a party with a bunch of chill people. The bonus is that you get to date some of those people on the very night you meet them.

Bottom line: while I love that I can hang in person again, having a (good) option to meet and date new people from home is an experience that won't lose its novelty even now that the world has reopened.

2. Online speed dating makes meeting people easy
I have a confession. Online dating has made me hate making the first move. Swiping for hours is bad enough – oh look, it's another person with a filtered pic and zero useful info in their profile! – but worse is that when I finally get a match, the pressure of the first DM can be daunting. Most people will write you off if you simply say "hi." They want you to wow them with an opening line that's as risque as it is romantic, as clever as it is complimentary.

And look ... I can be all of those things. But I'm really tired of having to consult a team of writers just to introduce myself. Can we all agree that this aspect of online dating has grown tiresome?

With online speed dating, I don't have to do anything other than create a profile and sign up for an event. That's it. The app does the rest for me. I immediately get set up on a series of dates with actual matches (not randos), and if I get "Cut," at least I had a fair shake. Totally beats getting unmatched because my pun didn't impress.

3. Online dating cultivates connection beyond romance
This attribute goes hand-in-hand with the first, but we felt it deserved its own callout: another great thing about Couple speed dating is that it's not solely focused on finding love (or lust).

Not only can you "Connect" with dates with whom you feel a friendship vibe, but you also get to meet a ton of people in the Mingle Rooms and at the after-party, which gives you a great opportunity to strike up some platonic or professional connections.

Making friends as an adult ain't always easy, but it's considerably less awkward in the context of an online event where there are trivia games, hosts that keep things loose, etc. True story: a lot of people tell us they come more for the party than they do for the dating. It might sound strange, but it speaks volumes about the quality of the overall experience.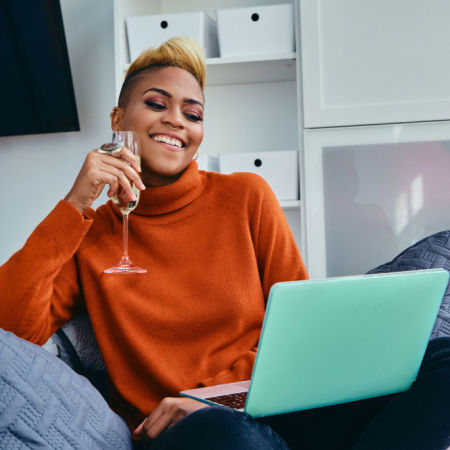 4. Online speed dating is safe
How about this for a "duh" moment: meeting your matches for the first time on an online date is safer than meeting them in person.

Obviously there are a lot of caveats with this declaration. We're not saying you're unsafe if you meet IRL, just as we're not saying that you're completely invulnerable over a video date. Taking some simple precautions can help keep you safe in either scenario.

But meeting through a virtual date does offer some protections that IRL meetups lack. There are the obvious physical benefits: you're home and separated from your date, you aren't traveling with a veritable stranger, and you don't have to worry about your drinks being drugged.

Additionally, Couple has built-in tech features that allow you end a scary date fast and report the user for making you feel threatened. And because a live team supports every event, there is real-time help available should your match make you uncomfortable.

5. Online speed dating kills the catfish
As an extension of the point above, Couple speed dating absolutely kills the ability to catfish. For one thing, users can't bait their matches with a phony profile pic; live video dates kinda make it impossible to hide behind a physical alter ego.

For another, the platform encourages users to go through a verification step when completing their profiles. While this is an opt-in function with a minimal charge (i.e., not all your dates will have chosen to do it), you can tell whose info has been verified because they'll have a check next to their username.

Either way, the hoops a catfish would have to jump through to successfully dupe somebody on Couple are substantial if not insurmountable, and it's a pretty cool feeling to know that your matches are who they say they are. Whether you vibe with them is a different story, but at least you know you won't have to "Cut" someone for being undercover.