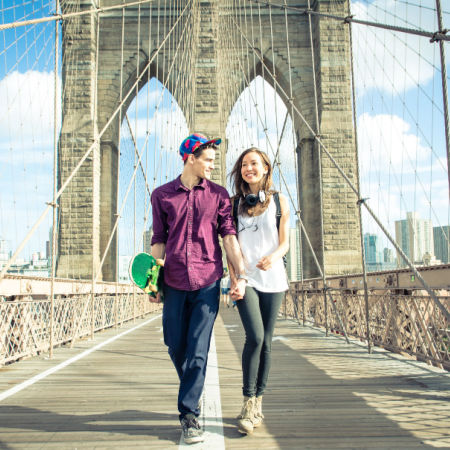 SPOTLIGHT ON A CITY: SPRING DATE IDEAS IN NEW YORK CITY
Planning an outdoor date in the big city? Here are five fun ideas.
This week's blog is for our single New York City readers who are looking for date ideas beyond dinner and drinks. It's spring, after all, so why not take advantage of the nice weather and let the sparks fly outside?

Here are five lowkey but love-is-in-the-air ideas for anyone in the New York metro area looking to soak up some sun in the big city.

Walk hand-in-hand through NYC's sweetest spots
While the city has many beautiful side streets and small parks to explore, some of New York's most romantic strolls can also be the most touristy. Timing is key to avoid crowds, but at the end of the day ... do you really care how many people are there as long as your date is one of them?

In Manhattan, Central Park is the quintessential place to promenade. You can find a handy list of the most romantic park points to vist here. We also can't recommend the Chelsea-based High Line enough. (It can be hard to believe that this green garden and artistic oasis in the sky was once just a rail line!) In Brooklyn, you can't go wrong with a sunset walk across the Brooklyn Bridge — bonus points if it starts or ends in Brooklyn Bridge Park — and the Brooklyn Botanic Garden is absolutely gorgeous when spring is in bloom.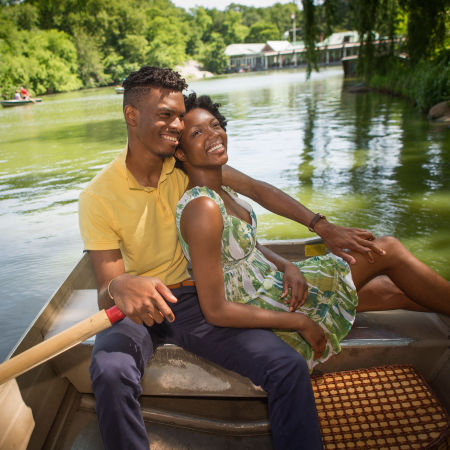 Sail the New York harbor in style
If you'd rather float than walk, New York City has plenty of options to take to the water. You can channel your inner romantic comedy and rent a rowboat in Central Park, or you can set sail by chartering a schooner in New York Harbor.

There are also Harbor cruise tours and speedboat adventures available for booking, but there's something extra romantic and peaceful about an engineless vessel ... especially at sunset. The Harbor excursions are a wonderful way to watch the city lights flicker to life (as well as take in other iconic city sights), and some even offer wine or craft beer tastings if you're of age.


Get your game on at Manhattan's Chelsea Piers
If you're a sporty or adventurous duo, it's easy to plan a great NYC date at Chelsea Piers. The West Side Highway views leave much to be desired, but the riverside vista and awesome activities more than make up for it. Choose between golfing, bowling, ice skating, hockey, soccer, basketball, batting cages, rock climbing, adult gymnastics (!), and more.

And if you work up a hunger or thirst during your activity, there are plenty of restaurants and bars in the area to hit up afterward (obvi). Onsite amenities are available, but we'd recommend venturing into Chelsea "proper" for more date-appropriate options.
Roller-skate (cause who doesn't love a retro date?)
Gen Zers might not have grown up with roller rinks, but there's no reason we can't make up for lost time considering NYC has resurrected the pasttime with lots of local rinks. Some of the most fun venues are outdoor and therefore only open for the warmer months, so get rolling with your date while you can!

(P.S. Make sure to check out the "disco nights" at some of these haunts. "Stayin' Alive" while on skates is bound to make a great date story.)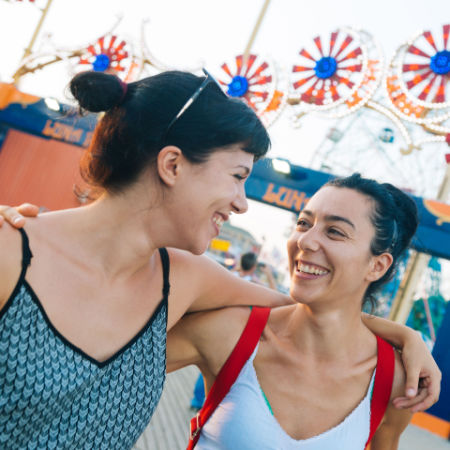 Couple-up at Coney Island
Finally, channel young love and couple-up carnival-style. If you've never played tourist and visited the inimitable Coney Island, you're really missing out. This magical gem of an NYC landmark is home to the famous amusement park Luna Park (Wonder Wheel, anyone?), a modern-day circus sideshow, the Coney Island Museum, and — if you're looking for a unique June date — the amazing Mermaid Parade.

Coney Island also boasts some shoreline sights and sunbathing opportunities, so it's as good in the summer as it is in the spring.


Have a city you want spotlighted ... or a date suggestion to share? Let us know!