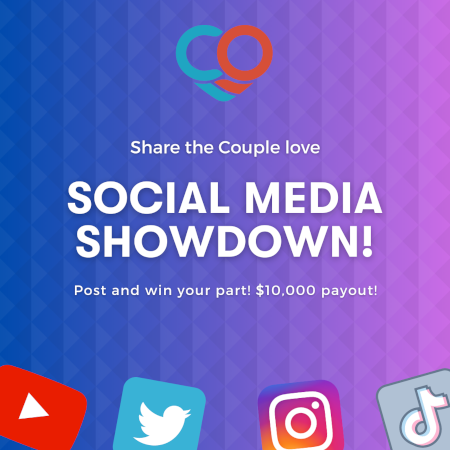 SHARE THE LOVE WITH COUPLE'S SOCIAL MEDIA SHOWDOWN
Share your Couple experience with the world ... and win big!
If there's one thing Couple loves nearly as much as connecting singles, it's celebrating our community with a killer contest. We know money can't buy love, but it is a very tangible way to thank our wonderful users and share our matchmaking mission with the world. That's why we're super stoked to announce the launch of Couple's Social Media Showdown.

Starting today and extending through August 3rd, we're inviting our users to post videos about their Couple experience to earn some amazing rewards and prizes. And we do mean amazing. Like, participate-and-you're-guaranteed-moolah amazing. Participate-and-win-a-piece-of-our-$10,000-payout amazing. That kind of amazing.

Read on for details about what to do and what's at stake ... and then visit the contest page to get started!
HOW TO PARTICIPATE IN COUPLE'S SOCIAL MEDIA SHOWDOWN
Participating in the contest couldn't be simpler. Here's how it works:

1) Take a video that highlights your Couple experience. It could involve telling your community that you're attending an upcoming event and inviting them to join you, filming a "get ready with me" vid, giving the lowdown after attending an event (highs and lows, funniest moments, cringiest moments, etc.), or sharing a match success story. You're the writer and director, so get creative in how you share your Couple love!

2) Share the video to your socials. Post up to four videos per week to any or all of these social channels: TikTok, Instagram, YouTube, Twitter, and Threads. We'll send you a personal referral link to include with your post so you get credit for anyone you refer.

3) Tag Couple. Don't forget to tag us, and do us a favor and shoot us an email any time you post to make sure nothing gets lost in the mix.

4) Use the contest hashtags. Use at least two of the following hashtags: #CoupleSpeedDating, #StopTheSwipe, #CoupleShowdown, #CoupleLoveStories, #CoupleMoments, #CoupleConnections, #JoinCouple, #CoupleCringes.

PRIZES AND REWARDS
Now for the fun part. Here's what you stand to earn and win by participating in Couple's Social Media Showdown.

Video bonus: Earn $25 for each video you post – up to four per week! Nothing better than a contest with a guaranteed prize, eh?

New member bounty: Bag a $20 Amazon gift card for every new attendee you recruit through our referral program. The new attendee also gets a $20 Amazon gift card. Dang!

Big prizes for big winners: Take home part of $10,000 in total prize money! The top-five videos in the following categories – most creative, most views, and most liked – will win between $100 and $1,000.

Social shoutouts: Go viral! If this is your jam, Couple will promote your videos and social profiles to hundreds of thousands of people through our digital marketing channels, blog, and newsletter. If you'd rather stay on the DL, that's a-okay with us.

Hosts with the most: Grab the mic and do your thing. Top winners have the option to host their own mingle room at an upcoming event! If you love to be in front of a crowd, we'll hook you up.

RULES AND GUIDELINES
There are only a few rules you must adhere to to participate in the contest, and lucky for you they're super easy to follow. First things first: you must be a Couple user to be eligible to participate in the contest. Second, make sure your content is original, respectful, positive, and aligns with Couple's terms and conditions. And third, don't film your dates or include images/identifying images of your fellow Couple users.

That's it!

If you're interested in participating, email us and we'll send you the additional info you need to get started. Good luck and BIG gratitude to all who share the Couple love!