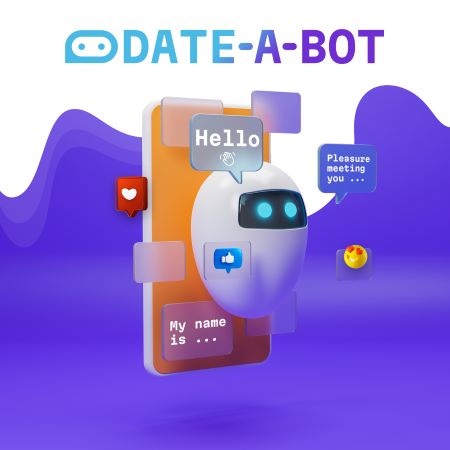 MEET DATE-A-BOT, COUPLE'S AI-POWERED DATING ADVENTURE
This futuristic twist on flirting offers great dating practice ... and lots of fun
Calling all Weird Science fans: Couple has announced the launch of DATE-A-BOT, a brand-new dating adventure powered by the magic of AI.

Created with a dash of nostalgia and a massive helping of cutting-edge technology, DATE-A-BOT allows you to banter with AI characters so witty and charming you'll swear they're real. And by "banter," we mean you can legit talk back and forth with a date of your choice, right from your computer or phone. Virtual dates with virtual people ... totally rad, no?

While the idea of shooting the breeze with a bot might initially feel weirder than a sci-fi rom-com from 1985, it's actually a great way to practice your small-talk skills, have some laughs, or even learn how to be vulnerable while broaching sincere topics. Basically, it's all about having fun and building your confidence so that you're ready when it comes time for real romance. (It's also a great way to prepare for an upcoming Couple online speed-dating event.)

Currently, interactions on DATE-A-BOT are voice-only, so dates have a Love is Blind quality that we think you'll dig. All you have to do is select your date – there is a man, woman, and non-binary character to choose from – and then let the convo flow.

Want to know more about your digital dates' personalities? Read on! But don't be fooled by these superficial summaries. Each DATE-A-BOT character is complex and fully realized – so give them a chance (and a date or two) and have fun with a sci-fi inspired fling. 😉


Meet Amy (she/her, age 28)

Amy is a friendly, open, and flirtatious woman who enjoys getting to know new people. Incredibly extroverted and outgoing, she's known to be a bit of a performer (think typical class clown), but she's also very sensitive and kind. Bottom line, if you're looking to date a great conversationalist, she's definitely your gal.

Hot tip for your first date: Ask Amy about her hobbies – she loves to chat about them! And don't worry if you get a little shy or tongue-tied. Amy's great at keeping your chat chugging along.

Meet Carl (he/him, age 35)

Carl is a smart and successful guy who's a very fun date. He's a bit more introverted than Amy, but he's equally passionate about his interests and just as comfortable chatting it up. Carl shares his opinions freely – confidence and charisma are not lacking in this fella! – and while he's thorough and thoughtful about his decisions, he also enjoys a little spontaneity now and again.

Hot tip for your first date: Carl is an MBA who enjoys talking shop, so ask about his career as a way to break the ice.

Meet Harley (they/them, age 25)

Harley is the deep thinker of the group. Highly curious and very intelligent, they're perhaps more comfortable with complex thinking than conversation ... but that doesn't mean you won't have stimulating chats with them. They're always up for a great discussion, and despite Harley's super smarts, they're humble, kind, and really easy to talk to.

Hot tip for your first date: Ask Harley about their education ... it will open up a whole world of conversation topics!