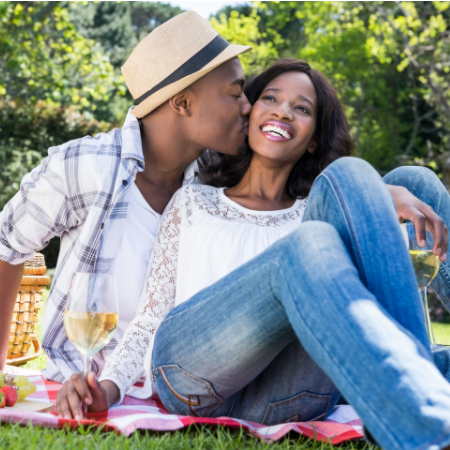 LOOKING FOR THE PERFECT OUTDOOR DATE THIS SPRING?
We've got you covered with the ULTIMATE list of al fresco date ideas
Spring is nearly upon us, and you know what that means … it's time for outdoor dates! There's something about the first few weeks of warmer weather that gets even the most nature-averse of us itching to spend some time in the sun. That's why we've put together the ultimate list of outdoor date ideas. Whether you and your date are looking for something low-key or you're craving a daring couple adventure, we've got you covered. Check it out and let us know what you think.

Oh yeah, and for those rainy days when you'd rather date indoors, you know Couple always has you covered with plenty of online events. 😉

Outdoor date ideas for sporty couples
If you and your partner are super sporty, your outdoor date options are practically endless. Here are seven ideas to get the romantic ball rolling.

Take a hike. April and May might be the perfect time to hit the trails … it's not too hot or buggy yet, and there's something special about seeing the forest foliage spring back to life with your significant other. Find your perfect date-day trail here.

Go for a bike ride. Channel your inner kid and get pedaling with your partner! Depending on where you live, you don't even have to own a bike yourself. Services like Spinlister make it easy to find a rental ride.

Rent kayaks. If you live near a body of water, chances are decent that you're also close to a kayak rental shop. Do a quick search, grab your love, don a life vest, and get rowing!

Hit the green. Get romantic with a round of golf or trip to the driving range! Or, if the full 18-hole experience isn't your jam, get your mini golf on. (We don't judge.)

Compete in a race. Enduring love, meet endurance sports! Couples who run, bike, or swim might get a kick out of competing in a race together. There are plenty of fun road races, trail races, cycling races, and swim races to choose from. For runners, start your search at this this site.

Play a sport. Other partners might enjoy participating in a friendly pick-up game. Head to your local park for a round of tennis, pickleball, basketball, or basketball.

Play lawn games. Cornhole, anyone? How about croquet? Pick your lawn-game poison and make it a tournament of champions in your own backyard!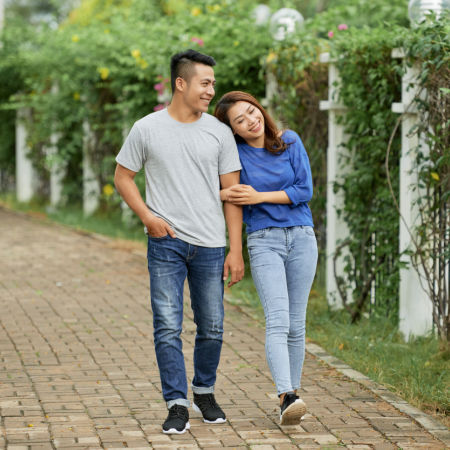 Outdoor date ideas for lowkey lovahs
If you'd rather not sweat during your springtime dates, then check out these lowkey outdoor date ideas that offer fresh air … but don't require much effort.

Visit a botanical or sculpture garden. Spring is hands-down the best time to wander leisurely through a beautiful botanical garden. How can love not bloom when you're surrounded by actual blossoms? Find U.S. gardens here and Canadian gardens here.

Attend an outdoor performance or event. Whether you and your date are music, drama, comedy, or sports fans, spring is a great time to take advantage of outdoor events. Many cities and communities even offer free performances this time of year, so get Googling and claim your seats!

Snuggle up around a fire pit. Is there anything better than snuggling under the stars? Spring nights are still cool enough to do just that, so light the fire and enjoy some s'mores with your special someone.

Hit the seas. If you're looking for a low-key adventure, a boat tour is a great option. Search your nearest city to find sightseeing tours, dinner cruises, sailing excursions, and more.

Take in the views at a rooftop bar. Spring is the perfect time to visit a rooftop bar because you can enjoy the views without getting sun stroke. Cheers to that!

Enjoy an outdoor movie. Whether you hit up a drive-in theater or project a movie in your own backyard, watching a flick in the fresh air is a great outdoor date option.

Watch a sunrise or sunset. Grab a blanket and head outdoors for nature's ultimate romantic backdrop. Starting or ending the day together is a simple-but-sweet bonding experience that never gets old.

Outdoor date ideas for do-gooders
For couples who take comfort in serving the community, there are plenty of outdoor date options that also serve a purpose. Here are a few ideas:

Participate in a fundraiser event. Enjoy getting out for a run, walk, or roll with your partner? Why not fundraise your heart rate? Head to this website to find an event that supports a cause dear to you.

Join local clean-up days. You and your plus-one can also cover some ground while participating in a community clean-up. (There's nothing to love about litter, but cleaning it with your love could actually be fun.) Organized events often are planned around Earth Day (April 22nd), but you can join efforts all year long. Search here to find an event near you.

Walk shelter dogs. Animal-loving duos can spend an afternoon walking and loving on local shelter dogs. Fluffy cuteness and a little flirting? Sounds perfect to us! Chewy, a website that sells pet products, has a search engine for finding shelters and rescue orgs near you.

Take part in trail maintenance. If you're a trail-loving twosome or a conservationist of any kind, you can help take care of local trails or nature reserves. Find U.S. opportunities by visiting the United States Forest Service. In Canada, start here.

Canvas for a cause. Policy-minded partners can pound the pavement going door-to-door in support of an issue or candidate. Striking up convos with strangers is a little easier when you've got your person by your side!

Get building with Habitat for Humanity. How about a date where romance is found while (literally) raising a roof? Helping build homes for your community is special enough on its own, but when you do it with your babe, it's even better. Plan your date here.

Volunteer in a community garden. Do you and your date share a green thumb? Make a day of it at a community garden. Find a local garden here.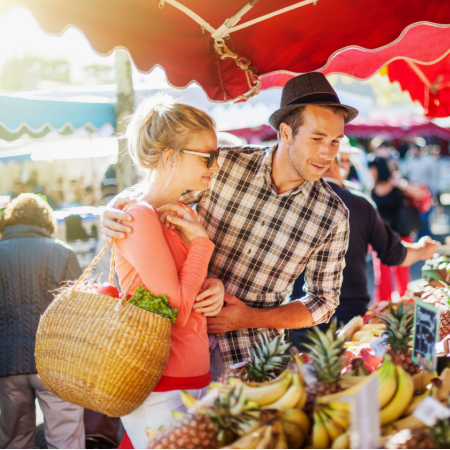 Outdoor date ideas for foodies
Foodies, fear not: there are plenty of outdoor date options that bring your love of fine dining out into the fresh air.

Visit a farmers' market. Any other foodies get giddy while browsing an outdoor farmers' market in the spring? It's even more fun when your date is by your side helping pick ingredients for the amazing meal you're going to cook together.

Plan a fancy picnic. The picnic is the quintessential outdoor date, period. So load up your basket with gourmet goods, and head to a romantic spot to dine al fresco with your amore!

Check out a food festival. Spring and summer means outdoor food festivals are in full swing! Whether it's a big one (like these) or it consists of a few food trucks in your town, a food festival offers the perfect date setting for cuisine-minded couples.

Embrace outdoor dining. Grill up a good meal in your backyard or enjoy outdoor dining at a sidewalk cafe. Outdoor dining has expanded since the pandemic, so take advantage of the opportunity for a meal under the stars.

Get your winery on. Want to know which wines pair with your favorite meals? Head to a winery for an outdoor tour and tasting! (Be sure to search for more local options, too!)

Pick fresh fruit. There's nothing like picking fruit fresh from the earth, and the experience offers a great daytime date option. Search your local farms to see what's in season!

Get foraging. Here's one off the beaten path: go foraging for food! When you forage, you look for wild food (plants, berries, nuts, mushrooms, etc.) and gather it for free. You need to know where to look and what you're looking for, but it could be a fun adventure for the most dedicated foodies.

Outdoor date ideas for daredevils
Thrill-seeking couples also have plenty of nature-based dates to choose from.

Go to the amusement park. If your idea of a risk-taking adventure is riding a rollercoaster, then head to your nearest amusement park for a date that hopefully has more ups than downs.

Explore an outdoor adventure course. Search your area for a ropes or climbing course to take your relationship to new heights. The best courses are elevated high in the trees for a view that can't be beat.

Coast down a zipline. "Coast" and "relationships" are normally two words that don't pair well … unless a pair of partners is coasting down a zipline, that is. Search for zip line parks on sites like Tripadvisor to find one that works for you.

Fly high in a hot air balloon. We hear that seeing a sunset from the basket of a hot air balloon is an experience of a lifetime, and doing so with your love would make it even more magical. Search for a ride here.

Ride the rapids. If you prefer to keep your adventuring closer to ground level, consider white water rafting. Beginners and experts alike can enjoy this experience … the trick is finding the right river.

Scale some boulders. If you find rock-climbing romantic, chances are good that you're already familiar with your local mountains, but here's a place for beginners looking for lessons.

Go skydiving. And last but not least, if you're ready to take the jump with your date, go skydiving. There are plenty of places offering tandem jumps for beginners; just be sure to do your due diligence to find one with impeccable safety standards. We'd recommend searching through the United States Parachute Association.