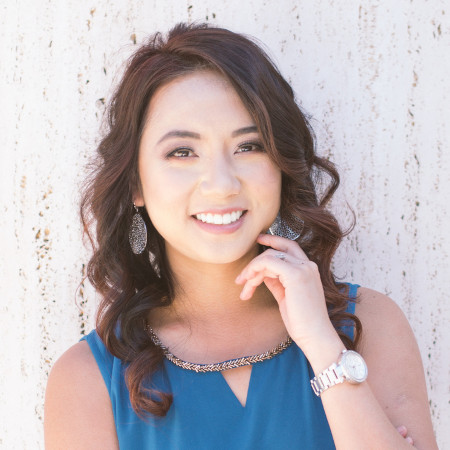 FIVE QUESTIONS FOR CUPID: Q&A WITH DATING COACH RUBY LE
This therapist turned dating coach works with a very specific client: the "nice guy"
One of the most fascinating discoveries we've made through our monthly dating-coach interviews is that support is available for literally everyone who's struggling on the dating scene. Whatever your age, however you identify, whoever you date, and whatever your hangup, there is a dating expert who can help you successfully navigate singlehood through couplehood.

And if we weren't convinced of that fact already, we certainly would be after meeting Ruby Le, the founder of Good Gentleman and a dating/relationship coach who works with a demographic that's as niche as it is nice. Yes, Ruby coaches so-called "nice guys."

"Nice guys" has become a loaded concept in popular culture, and the term is sometimes used interchangeably with "incels," or involuntarily celibate men whose lack of romantic success has made them hostile toward women. But there's also a less nefarious but equally stigmatizing use of the term with men who legitimately are nice but who perpetually find themselves in the friend zone.

It's this latter group to which Ruby devotes her coaching expertise.

We recently had the pleasure of chatting with Ruby, whose experience as a therapist and professional matchmaker is what inspired her work with single men, and she shared her perspective on everything from why some men strike out with dating to the biggest issue facing all singles today. Enjoy her thoughts here and then check out her blog for more dating insight!
What inspired you to become a dating and relationship coach?
I was incredibly intrigued and curious about dating dynamics since high school. That was when I recognized my passion.

I earned a master's degree in marriage and family therapy from the University of Southern California, and a bachelor's degree in social work from San Diego State University. I had worked with many couples to enhance their overall satisfaction and overcome struggles in their relationship. But, it was through that experience that I realized many couples should not have been together in the first place. I began the journey to help singles find the right person for them.

I worked with the matchmaking firm It's Just Lunch, and I was the lead matchmaker and coach at eHarmony's premium service, eH+. I helped hundreds of clients search for their special person, coached people to be successful on dates, and helped clients get happily married and find healthy relationships.

It was during this time that I noticed the big problem society had created with the label of "nice guy," popularly known as the man who gets friend-zoned. The term has a negative connotation, but what I saw were good-hearted men who hadn't been given a chance. Inspired by the brothers who I watched get stuck in these situations – as well as by the positive impact I'd had with these types of clients – in 2016 I decided to branch off on my own with the mission to help the "good gentlemen" find their confidence, strength, and charm ... and to find the right partner, all without changing who they are.

Now people know me as the modern-day Hitch. I am dedicating my time to help these men unleash the best of themselves to attract the right ladies.

Describe your average client. Who are they and why do they seek out a dating coach?
I help the shy, reserved, introverted, wrongly labeled "nice guys" ... most of whom have good intentions and a heart of gold with impeccable intelligence, limitless generosity, and the kindest soul.

These men seek me out to gain the skills to attract the right women, build confidence in themselves, learn dating strategies, gain experience, and reach their highest potential. They want to get rid of the "nice guy" label and become the "good guy" ... a man who isn't afraid to be his full, authentic self.

In your opinion, what is the top dating challenge facing singles today?
Finding true, real connections. In this modern day, there are more opportunities than ever to meet someone, but being able to truly connect with someone is incredibly challenging. Why? Well, many singles are unaware of what they want, dating apps often create more disconnect (texting fatigue, pickiness, rejection), people feel lonely, social skills have been affected by the pandemic, and more. All of these factors can weigh one down, making it harder to truly connect with another person deeply, easily, and playfully.

What are the advantages and disadvantages of dating apps?
The positive trait of dating apps is you can now meet singles you never would have met previously. You have more opportunity. Back in the day you had to meet through friends, in your neighborhood, at bars, at school, or through work. Plus, if you're a busy professional, dating apps allow you to be selective and not waste your time, since profiles call out important characteristics about a person.

However, as I noted above, dating apps also create more disconnect ... even more so as an app gains popularity. There is constant swiping fatigue, it can be overwhelming to have too many options (or too little, depending where you live), there's the sting of rejection if you don't get matches back, or you might face dating exhaustion. Apps also promote quick judgment and pickiness, and it's easier to neglect what really matters in a successful relationship.

This is why I love Couple. It gives singles opportunities to actually interact and speak with one another instead of just texting away.
What's one piece of dating advice you'd offer to all singles?
You already have what it takes to find the right person – it's just a matter of bringing out your best potential self. Many men believe that they have to be macho, alpha, and extroverted to win over a partner, but true attraction comes from being the best version of yourself, having confidence in your qualities, pursuing what you want, and being authentic.

Being authentic means accepting yourself for who you are without seeking approval from others. Embrace your strengths, weaknesses, mistakes, and achievements. This is the first step towards understanding dating strategies ... and women in general.


If you're a "good gentleman" looking for coaching and support in your love life, you can find Ruby's service offerings here. You can also follow her on Instagram, Facebook, Twitter, and YouTube.