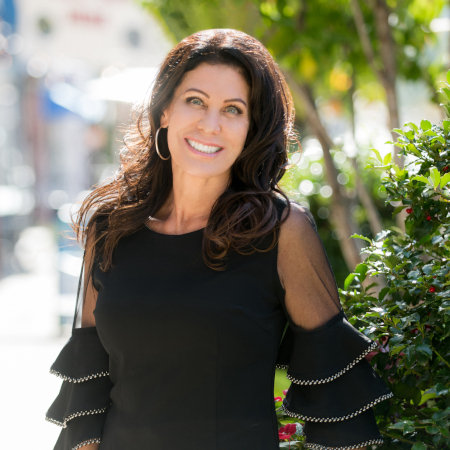 FIVE QUESTIONS FOR CUPID: Q&A WITH CERTIFIED MATCHMAKER KRISTI D. PRICE
Looking for love in 2023? This life and relationship coach has some words of advice
Though we Vibe staffers fancy ourselves online-dating experts, every now and again we like to talk with the pros on the frontlines of real-life romance … i.e., dating and relationship coaches who make their living helping others find love.

If you're unfamiliar with the concept, dating coaches work with clients to improve their success in dating and relationships. This could include working on social and interpersonal skills, addressing bad habits, overcoming anxiety, developing dating-app intelligence, etc. The tactics and philosophies each coach employs vary, as does their clientele. But whoever you are, whoever you're into, and whatever kind of relationship you're looking for, there is definitely a dating coach who can help you grow toward your goals.

For our first Cupid session of 2023, we called on Kristi D. Price, a certified matchmaker and a dating, life, and success-mindset coach. Kristi has been helping Philly-based singles find love for over 15 years through her service KP Matchmaking, and she boasts a 92% success rate with her clients. Wow, right?

Kristi shared her perspective on everything from traditional dating apps (spoiler alert: she's not a big fan) to the top challenges facing singles today. Big thanks to this seasoned pro for sharing her perspective with us, and for any readers looking for help honing their dating game, you can find her contact details at the end of the article. Enjoy!

What inspired you to become a dating and relationship coach?
When I got divorced, I made a lot of mistakes. I dated the wrong types of men (for me), I didn't effectively use online dating, I missed red flags, and I didn't realize my worth or set good boundaries. In college and years after, I loved being a wing woman for my friends – both male and female – to help them meet others in public.

After my divorce, I wanted to help others avoid making the same mistakes I did. I knew I had the coaching skills to assist others in creating a life they love and attracting the right type of people into their life … for romantic as well as other personal and professional relationships. As a life and executive coach – and as an equestrian trainer – I've always loved helping others fulfill their dreams by getting over their fears, gaining confidence, setting goals, and realizing their amazing qualities.

Describe your average client. Who are they and why do they seek out a dating coach?
My clients are active, positive-minded professionals or retirees. I work with all age ranges from age 18 to 70+. They seek me out because they aren't doing well with online dating or connecting with others in public, and I help them meet quality people mutually aligned with their life and relationship goals, among other things.
In your opinion, what is the top dating challenge facing singles today?
Traditional dating apps are saturated with people who are already in relationships, have no intention of meeting people in person because their profiles are a farce, or are scammers. There also can be an expectation of perfection with online dating, meaning people have a ridiculous checklist they think that one person alone can fulfill. There are so many profiles for people to "choose" from that it's like being a kid in a candy store. They get tired of the candy they initially liked and trade it in for something new and different. People start dating a person, and when one thing goes wrong, they are back online instead of communicating and trying to work things out. Also, because you don't have to be accountable with some types of online dating, ghosting is very prevalent. It's easy to ignore others and avoid telling them that they don't have an interest in pursuing a romantic connection.

Additionally, after Covid, it's been hard to meet people in public. The lockdowns and masks affected many people's psyches and confidence when talking to strangers. Also, many people still don't want to be approached because they may be a little Covid-fearful or are "shut down" socially from the lockdowns.

Do dating apps actually work?
First of all, I LOVE the Couple platform and know it's going to be a huge success!

As far as traditional apps go … as long as you know how to navigate online dating, it is great practice to get out there and date. I know people who met online and are in loving relationships. So it can work.

But traditional apps can also be a lot of work making sure people are who they say they are, that their relationship goals are aligned with yours, and that they're actually single and not just wasting your time. It's very time-consuming messaging and swiping until you finally get a match who wants to meet in person. Then … do they look like their photo?

Safety is also a big issue for both men and women. You never know who is behind the profile. It's important to Google-stalk a name, do a reverse photo search, and meet in well-lit public places.

What's one piece of dating advice you'd offer to all singles?
Create a life you love first and know how you want to feel in a relationship. That way, when the right (or wrong) person comes into your life you can choose what is best for you. The old cliché "if you don't love yourself, no one else will either" … or something like that … is SO true. How can we expect others to love and respect us if we don't love ourselves first?


If you're interested in seeking support and coaching from Kristi, head to KP Matchmaking to set up a free phone or initial consultation. You can also find her on Instagram and Facebook.