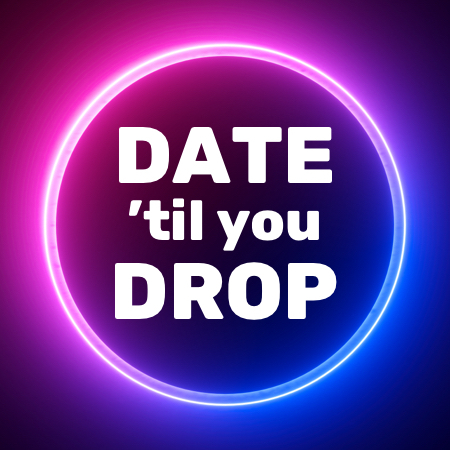 COUPLE EVENT PREVIEW: (SPEED) DATE 'TIL YOU DROP!
Couple will host marathon meet-up in honor of … National Sandwich Day?
Get this: Couple is hoping to set several speed-dating records by hosting a (free) Date 'Til You Drop event ... and it's all in honor of National Sandwich Day.

Yep, National Sandwich Day.

The global online event, which kicks off on November 3rd at 7pm ET, aims to connect and couple-up a record number of singles ... on a record number of video-based speed dates ... for a record amount of time. Oh yeah, and prizes will be awarded to daters daring enough to go the distance.

Who else is here for this?!

The Vibe crew was so excited about the idea that we cornered Couple CEO Ryan Beswick (a.k.a. Cupid incarnate) and peppered him with a bunch of questions about the event. Check out his responses and then get yourself signed up. Matches + money + matchmaking mayhem? Who'd want to miss that?
Q: What is Date 'Til You Drop? Is it a normal speed-dating event?
Date 'Til You Drop is a Couple speed-dating event on steroids. We anticipate a huge number of participants, which means you'll have more dates with better quality matches. The energy is going to be high – expect lots of games and fun when you're in the Mingle Rooms or hanging with the hosts. And the event won't end until all but 25 daters have dropped, so the party will likely rage until early morning. Come prepared.
Q: Who can speed-date at the event? Is it limited to a specific demographic?
Singles who are 18 or older can participate. As with all Couple speed-dating soirees, this is an inclusive event and not limited to any specific demographic or geographic group. Our matching engine will pair participants based on preferences (gender and otherwise), location, etc. As long as you're old enough and ready for a whole lotta small talk, you're in!
Q: Brass tax: what kinds of speed-dating incentives are you offering?
You mean beyond the allure of meeting a ton of your personal matches? No, I get what you mean. We're definitely incentivizing people to stick it out – we have records we want to break! We'll be giving away over 300 prizes that are collectively valued at $20,000. Not too shabby, right?

If you're in the event continuously for at least 20 dates, you'll walk away with a $10 Subway gift card and 1,000 Couple Coins. The final 25 daters will each win a $250 Amazon gift card and 100,000 Couple Coins. Big perks just for going to a party!

Editor's note: Couple Coins are an in-app currency that allows you to access extra time on dates, unlock icebreaker prompts, request dates with specific users, and more.
Q: Last but not least: what the heck does speed dating have to do with National Sandwich Day?
Isn't it obvious? (Kidding, of course.) Look ... as a dating app, we live and die by the strength and predictability of our matching engine. But even we have to admit that, sometimes, love is wonderfully random. And what's more random than a national holiday dedicated to stuffed bread? Plus … people are going to be hungry after ten hours of dating. They're going to need a little sammie."


You can register for the Date 'Til You Drop Event here. Or, if you prefer a speed-dating sprint to a matchmaking marathon, sign up for a normal-length party here.