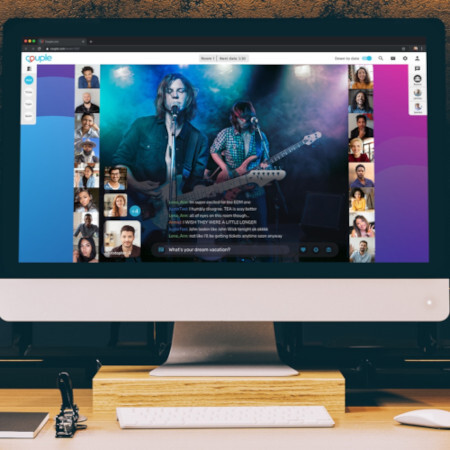 CLOSE-UP ON COUPLE: THE AFTER-PARTY EXPERIENCE
When your online speed dates are over, what can you expect at the after-party?
This week's blog is for community members who haven't experienced the Couple after-party yet. (Howdy, after-party virgins!) Call us biased, but we wholeheartedly believe that Couple offers the best online singles experience ever, and the after-party is a huge part of what makes it stand out in a sea of dating apps. No shame to Couplers who sign off right after speed dating, but ... you're definitely missing out.

If speed dating is the heart of the Couple experience, the after-party is what keeps it pumping. You know when you have a really great date and your adrenaline is flowing and you wish the night didn't have to end? That "and and and" feeling is exactly what inspired the design of the after-party. Couple parties channel the energy and excitement of a great date, and then amplify the experience with interactive features that keep singles mingling and mixing all night long.

Read on for more details, and then do your single self a favor: register for our next online speed-dating event and make an appearance at the after-party. We promise you won't regret it.
What happens during the Couple after-party?
Before we dig in, a quick acknowledgement: Couple events are a crazy good time even without the after-party, so if you're unable to attend it at any given event, don't worry. You'll still experience the awesome pre-party (the brief period before dating starts where event attendees get to break the ice in small groups), and the main speed-dating event is ah-mah-zing. The after-party is simply the cherry on top of an event that is already fun as hell.

But it's a really good cherry. Check out all you can do:

Socialize with the crowd. Unlike the 1:1 speed dates, the after-party is a group experience. The laidback party vibes make it easy to reconnect with the people you dated earlier in the night and to meet others for the first time. (Hot tip: the mingle rooms MCed by our event hosts always tend to be the highest energy. They are the best at getting the party started and keeping the convo flowing.) Of course, if you hit it off with a specific party-goer, you can text-chat privately with them, but there's something really special about hanging with the crowd.

Play games. If you're looking for some organized fun, you can play trivia or "Who Am I?" in one of our game rooms. Not only are the games entertaining, but they make it easy to socialize with the crowd because the games themselves are the icebreakers. If you're a first-timer or tend to be a little shy, we def recommend starting here. The game rooms are the perfect way to ease into the after-party experience.

Watch live performances. Every event also features performances by comedians and musicians. Not only do you get to catch some awesome live sets with your fellow singles, but you also get to chill and chat with our performers. It's like an after-party and backstage pass all in one. Pretty cool, right?
Do people actually stick around for the Couple after-party?
YES! In fact, at any given event, nearly half of the participants stay for the after-party, so there's always a good crowd. And what's even more amazing is that the party sometimes rages for hours (and hours). Check it out:

- 25% of after-party attendees stay for longer than 90 minutes
- 10% of after-party attendees stay for longer than 3 hours
- A handful of die-hard partiers stay for over 6 hours!

The best kind of stats are those that convey fun human connection, amiright?
What else can I look forward to at the Couple after-party?
Couple has big plans to make our already amazing after-parties even amazing-er. We'll be adding new games, offering private party rooms, expanding performance mingle rooms, and integrating virtual gifting (just to name a few upgrades). We're constantly innovating to ensure an online-dating experience that is unparalleled on traditional dating apps, and we're pretty excited about where we're headed. We hope you are, too.