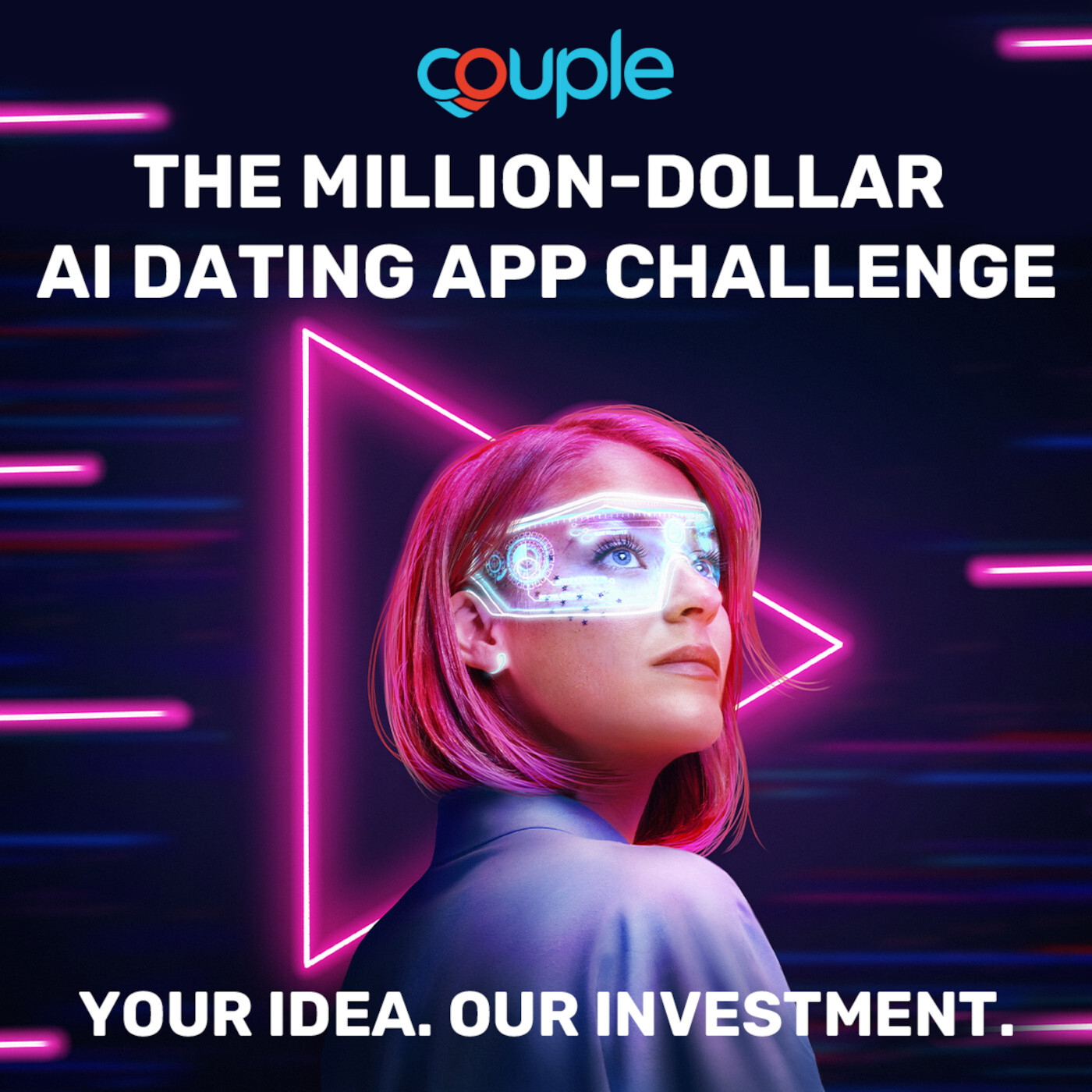 CAN AI-DRIVEN DATING APPS HELP SINGLES FIND REAL LOVE?
Couple's Million-Dollar AI Dating App Challenge says HECK YEAH!
Vibe readers, we have something a little different for you today, but it's such an exciting piece of Couple breaking news that we couldn't help but devote some blog space to it. On Wednesday, Couple launched The Million-Dollar AI Dating App Challenge, an absolutely epic contest that will award a ground-breaking, AI-based dating app idea a $1,000,000 investment.

Ya heard: A ONE-MILLION-DOLLAR INVESTMENT. (Couple doesn't mess around when it comes to revolutionizing the way we date.)

AI everything has been dominating headlines lately, and there's an equal mix of enthusiasm and trepidation for the future it will shape. Fair enough. But when it comes to dating, Couple firmly believes that if used strategically and responsibly, AI can absolutely improve the dating-app experience of single people across the globe. And what better way to usher in innovation than with some creative competition?

Read on for more details about the contest, submit your brilliant ideas here, and/or pass along the info to your visionary friends.
What is the Million-Dollar AI Dating App Challenge?
Couple's Million-Dollar AI Dating App Challenge is seeking visionary startup ideas that will shape the future of online dating. Couple will reward the best idea with a $1,000,000 investment, mentorship, resources, and up to $1,000,000 in online advertising in exchange for a 10% interest in the venture.
Who can participate in the challenge?
Anyone who is 18 or older can submit their idea, provided it's a totally unique concept, your proposal is in English, and you have a team (or a solid plan to assemble a team) to execute your vision should you receive the investment.
What are the judging criteria for the contest?
Your submission to the Million Dollar AI Dating App challenge will be evaluated on the following criteria: innovation, vision and passion, market potential, AI concept and implementation, user experience design, and execution capabilities.

Your submission should cover your background, target audience, unique selling proposition, key features, technical overview, market potential, business model, marketing strategy, scalability, and team.
How do you submit your idea?
Proposals to the Million-Dollar AI Dating App Challenge should be submitted in English through the website itself. Your proposal should be saved and submitted as a PDF file. Also, be sure to include your contact information in the file.
Is there a deadline? When will the winner be announced?
The submission period closes on July 5, 2023. Once all proposals have been reviewed, the team will narrow down the field to three semi-finalists – to be announced on July 25 – who will pitch their proposals to the team directly on or about August 5. From there, a final winner will be announced on August 15. The winner will receive their first funding payment on September 5. (Your dream to a reality in only a couple of months? Crazy.)
Want more details?
Please visit The Million-Dollar AI Dating App Challenge for more information and to review all the fine print associated with the challenge. In the meantime, start brainstorming ... there's a lot of work to be done if we're going to redefine romance together! Best of luck to all the participants!