Ryan Beswick
Chief Executive Officer
Head matchmaker by day ... jazz pianist, runner, and connoisseur of dad jokes by night.

Gerry Gorman
Chairman/Strategy
Family guy, late-night Aussie, bad-ideas man, chocoholic, tech-wave surfer, space-yacht saver.

Colleen Joyce
President and Host
Will travel anywhere looking for an adventure while blasting Billy Joel. Where we going next?

Jon Baker
Director of Operations
Urban fisherman who likes to do whatever his wife Rosie and three kids tell him.

Thomas Conway
Technical Product Manager
A process-improvement and efficiency enthusiast. Lover of traveling, Jeopardy, and spending time with family.

Josh Weiss
Senior Video Editor
Post-production guru. Camera nerd and cable collector. Aspiring pizzaiolo with a serious seltzer habit.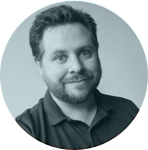 Peter Hogan-De Paul
Lead Software Engineer
All-around geek and nerd who loves building communities. If there's a fandom, he's probably heard about it.

Tim Panovec
Lead Software Engineer
Former USCG turned coder. Avid live music and Philly sports fan. Photog and old-movie enthusiast.

Adrian Ignat
Software Engineer
New-media tech genie for more than 20 years. Travel addict who loves photography, art, nature, and swimming.

Brodie Marshall
Software Engineer
History buff who loves to code, travel, and follow the stock market. Should probably sleep more.

John W. Metz
UI/UX Designer
Proud design and caffeine addict. Lover of mystery and urban fantasy novels, rainy days, and nerd culture.

Amanda Reyes
Social Media Marketer
Media maven and pizza snob. Sometimes I'll start a sentence, and I don't even know where it's going. I just hope I find it along the way.

Lauren Michell
Operations Analyst
LEGO and IKEA builder extraordinaire with too many interests to count.
Lauren Duffy
Copyeditor
Staunch supporter of the serial comma and mom jeans. Thinks her kids are okay, too.

Melissa Lurie
Media Marketer
Marketing and PR specialist; most likely to be found on a beach. Secretly obsessed with alpacas, but had to settle for a cat.